Asterales Restaurant, Corrençon
Come and discover our tasty restaurant in Corrençon.
In a warm atmosphere, decorated with wood, our gastronomic restaurant Asterales welcomes you to enjoy the cuisine of our Chef. A cuisine that is both generous, in the spirit of fine family dining, and modern and creative, thanks to the experience of our teams in the finest starred restaurants.
Live a moment as a gourmet experience where reinvented and traditional dishes are combined and where our cuisine is served with brio and conviviality by our teams in the dining room.
We offer several types of menus, including the "Inspiration" menu, which changes every day depending on what is available, to guarantee fresh, live and seasonal products.
Located in the heart of our hotel, our restaurant will be open from 12 May 2023 to 29 October inclusive and from 8 December 2023 to 31 March 2024.
Our Chef handles the stove with ease and virtuosity.
Attached to our terroir, he has won numerous prizes and obtained honorary places in prestigious competitions. Among them, he won the World Championship of Hare à la Royale in 2017, the prize for elegance at the World Championship of Pâté en Croûte in 2014 and the Trophée Masse du Foie Gras in 2014. He also took the 2nd place in the world.ème place in the Taittinger Culinary Prize in 2018.
It was during a 10-year career working in starred restaurants that this lover of gastronomy perfected his know-how. He offers a combination of the inventive and elegant cuisine of starred restaurants and the generosity of good family meals.
Asterales is open every evening from 7pm, as well as Saturday and Sunday lunchtimes from 12pm.
* Mandatory fields. This information will remain confidential and will never be distributed to any organisation.
** By submitting this form, I agree that the information entered in this form may be used and processed to enable me to be contacted, in the context of my request for information, whether by e-mail or telephone. To find out about and exercise your rights, in particular to withdraw your consent to the use of data collected by this form. Please consult our privacy policy. Legal information
This site is protected by reCAPTCHA and Google's privacy policy and terms of service apply.
Discover the 22 rooms of our establishment. Convivial, spacious and comfortable, they are waiting for you to relax and unwind.
Relax in our wellness area. Sauna, jacuzzi and swimming pool give you the opportunity to recharge your batteries after a day of hiking in the mountains and visiting the surroundings of Corrençon-en-Vercors.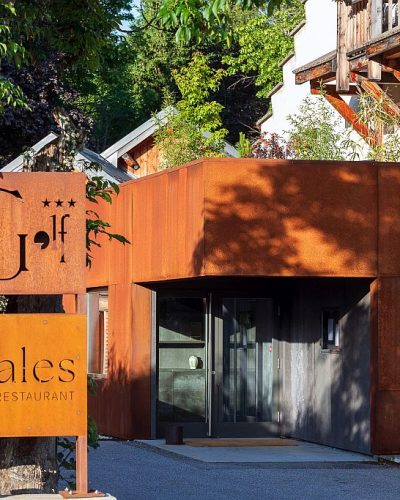 The ideal place for your company seminars, our teams are at your disposal to welcome your professional events with warmth, conviviality and seriousness. Take advantage of the unique setting of our establishment to encourage the cohesion of your teams.